Rotary International is a global organization of men and women committed to serving their communities – a group with a mission – and Jonah Yang is one of its members in St. Paul.
His mission, he said, is to further the reach of Rotary's creed – "Service Above Self" – in his Hmong community, and to encourage his Hmong friends and community to join local clubs. What better time to speak the potential for Rotary and prospective Hmong Rotarians than the cultural event of the season: Hmong New Year.
Jonah immigrated with his family to the United States at age 10, following the end of the United State's secret war in Laos. He and his family were living a peaceful life when the war started. They had to make a choice what armed party to support, so they, following the Laotian King, chose the U.S. side. He lived in Detroit for several years, and now is Senior Partner at Executive Protection Group Insurance Co. in Bloomington. He lives in St. Paul with his wife, Na Yang, a teacher in the St. Paul Public School District. They have four children: two in high school, one in college, and one is working.  
Jonah has been in the U.S. now for 44 years. "My perception has expanded greatly," Yang said. "What Rotary has done and what Rotary is trying to do. When I joined Rotary my original expectations were to have lunch, meet new people, and listen to speakers talk about interesting topics.
"Now I have been inspired by Rotary to step out of my comfort zone. I have never dreamed of speaking in front of so many Rotarians or other Rotary clubs."
Yang said the membership possibilities aren't limited to the area's Hmong community. Minnesota is a tapestry of different ethnic groups, also with people of all ages who have something to offer of themselves, to offer their talents, to offer their ideas. Members of the Rotary District 5960 are looking forward to making new friends and exploring how the Hmong community and Rotarians can work together. In addition to Rotary Clubs for business and professional people, Rotary also has a young business/professional group, Rotaract; and a high school group, Interact. Rotary provides educational scholarships for people working in areas of community service, opportunities for high school students to spend a year abroad, and a weekend leadership camp for high school students. All are welcome.
Yang's goal is to recruit 100 new members from the Hmong Community – to bring more diversity and interest from an ethnic community that has many business and professional people in the metro area and key contributors Minnesota-wide.
He said the Hmong New Year celebration is a good opportunity because it is a culture of togetherness, brings thousands in the community together at one place annually, and it's a great chance to get to know leadership and shared values of service above self in the Hmong community. 
"My message to possible new members, 'Rotary is a good place to connect with likeminded people in the local, national, global community,'" Yang said.
Yang came to join the St. Paul Rotary Club in January 2018, inspired by the Rotary creed, invited by his friend and colleague Rotarian Bob Cardinal. He also was inspired to serve and educate himself in other ways, and joined the Rotary District 5960 Peace Team with Dr. Ann Frisch, a member of the White Bear Lake Rotary Club. Dr. Ann said "Jonah is an inspiration to brother and sister members of Rotary and has brought an expanded world vision to our district."
Members of the Rotary District 5960 are looking forward to celebrating Hmong New Year.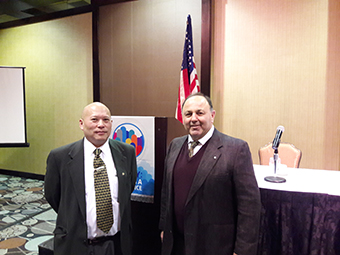 Jonah Yang and Bob Cardinal