Becoming a naturalized U.S. citizen has many benefits – citizens can vote and run for public office, obtain a U.S. passport, sponsor family members to come to the U.S. and hold certain jobs reserved for citizens such as federal government jobs. Unfortunately, there is current talk in Washington of making it harder for permanent residents to earn U.S. Citizenship. It is strongly recommended that permanent residents apply in the near future for U.S. Citizenship to ensure that they may full exercise their rights as Americans in the years to come and regardless of changes in Washington.
In the Twin Cities, the Hmong Cultural Center is one of the few organizations offering a
full schedule of Citizenship classes throughout the week including morning and late afternoon classes as well as a midday class taught in Hmong and English focused on the needs of elderly and disabled Hmong.
Hmong Cultural Center in Saint Paul provides free Citizenship classes throughout the week targeted towards the needs of the community. These classes help adult students learn everything they need to know to pass the U.S. Citizenship test and personal interview. English Language Citizenship classes are offered Tuesday through Thursday 10 AM – Noon and Monday through Thursday 4 PM – 6 PM.
Hmong Cultural Center is also currently accepting enrollment into its medical waiver citizenship classes for older and disabled Hmong refugees who have documentation from a medical doctor to take the Citizenship test from USCIS in their native Hmong language. The medical waiver Citizenship classes are taught in both Hmong and English. Hmong Cultural Center will also provide translation assistance for naturalization interviews at the USCIS for enrolled students in the medical waiver classes. The medical waiver citizenship classes are offered Monday through Thursdays from 12-2. In the last 5 years alone, Hmong Cultural Center has helped well more than 300 disabled and elderly Hmong work toward earning their U.S. citizenship through this unique and important program at its offices in Saint Paul.
A Citizenship class with a particular focus on the Karen community is also held at First Baptist Church in downtown St. Paul on Fridays from 6-8 PM.
For more information and/or to register for a free Citizenship or ESL class, please stop by Hmong Cultural Center at 375 University Avenue, Suite 204 in Saint Paul (University Avenue and Western Avenue), call 651-917-9937, visit the Hmong Cultural Center website at http://www.hmongcc.org or e-mail kangvang@hmongcc.org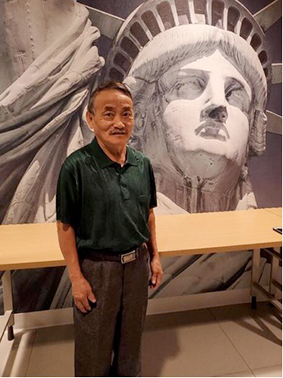 Yer Thao earned his U.S. Citizenship in October of 2018 at the Hmong Cultural Center