The Hmong College Prep Academy Lady Warrior's basketball team finished their 2018-19 season with a 10-7 mark, the best record in the team's five-year history.
The team, coached by Brian Ness and Alex Letran, posted the third best record in Twin City Athletic Conference play and qualified for the conference's season-ending round-robin tournament.
"The girls played hard through the end of the season," said Coach Ness. "We lost our first game to Community of Peace. However, we were able to beat Nova Classical Academy which secured a second place finish in the division."
Coach Ness added that their win against Community of Peace back in January served as a highlight of the season.
"That was a great win for our team and the program. CAP was heavily favored, but we were able to edge them out by two points at home, which handed them their only divisional loss of the season."
In terms of team contributions, Coach Ness was quick to acknowledge a number of player's accomplishments this season.
"This season was a true team effort. Point guard Gina Lee and shooting-guard Magnolia "Maggie" Jones were awarded TCAC All-Conference First Team honors. Together, they combined for over two-thirds of our offensive production. Small forward Yeng Yang and Gina Lee were named to the TCAC Conference Defensive First Team. Their defense was at the heart of our winning record. In fact, the team led the State in points allowed, holding our opponents to 25 points per game. Sousada Khang was the team's biggest freshman/first-year contributor. She had two 17-point games, one of which was in the final game of the season. Her strong effort really helped us secure our second place finish."
Coach Ness added more in regards to Magnolia Jones' amazing season.
Last year, Maggie played in three varsity games… as a 7th grader. This year, due to her ball handling and shooting skills, we moved her up to varsity. As the team's shooting guard, she averaged a team high 14 points and over 5 blocks per game. Maggie's ball handling and strong shooting percentage made her our go-to player and we essentially built our entire offense around getting her the ball. Conference coaches voted Maggie as the Co-Player of the Year alongside Kenisha Masaazi, a senior from Hiawatha Collegiate Academy. This is the first time an 8th grader has received the TCAC Player of the Year Award
Looking ahead, Coach Ness is optimistic about his team's future.
"Next year, HCPA will be joining a new conference as the Twin City Athletic Conference disbands. The new conference will be made up of smaller charter schools, which I hope should make us very competitive. We'll also be looking to schedule additional non-conference games against public and private schools. This will ensure our players will continue to push their abilities and grow as a squad."
Hmong College Prep Academy is located at 1515 Brewster Street in St. Paul, just southeast of the Minnesota State Fairgrounds. For more information or directions, interested parents and students can call 651-209-8002 or online at www.hcpak12.org. The school is currently enrolling students in grades K-12 for the 2019-20 school year. Space is extremely limited.
Members of the 2018-19 Hmong College Prep Academy Lady Warriors Basketball Team. Photo courtesy Hmong College Prep Academy.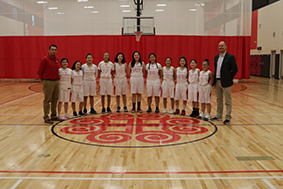 Names (grade) from left to right: Assistant Coach Alex Letran, GaoKalia Vang (9), Kailei Khang (9), Sousada Khang (9), Magnolia Jones (8), Izabella Yang (9), Madanna Vue (10), Seenyia Yang (10), Yeng Yang (11), Gina Lee (10), Kaonou Yang (9), Pana Yang (10), Head Coach Brent Ness