Hmong American Farmers Association (HAFA) Announces New Executive Director
By Cindy Koy
Janssen Hang has accepted the Executive Director position at the Hmong American Farmers Association (HAFA) and will start in this new capacity on September 22, 2019. On that date, the current Executive Director, Pakou Hang, will transition to the Executive Director Emeritus position and will leave the organization on November 16, 2019.
Pakou gave advanced notice of her departure to the HAFA Board last year and BetterWorld Partners, a consulting firm located in St. Paul, was hired in December 2018 to conduct a nationwide search for bi-lingual and bi-cultural candidates with agricultural and organizing experience. Special recruitment efforts were extended into the Twin Cities as well as Milwaukee, Seattle and the Central Valley region of California where many Hmong farmers reside. "It was clear, based on the conversations I had during the search, that HAFA is a leader and highly respected by people doing food systems work both locally and nationally. We wanted to find the right leader that could continue to build on that legacy," said BetterWorld Partners' Co-Founder, Martha Lee, who spearheaded the search.
Janssen is a Co-Founder of HAFA and currently serves as the organization's Senior Organizer and Farm Manager. Since HAFA's inception, he has also served as the organization's Lead Trainer and helped develop HAFA's nationally recognized bi-lingual and bi-cultural beginning farmers' training program. Janssen was HAFA's inaugural Food Hub Director in 2012 and led the organization's early efforts to aggregate fresh produce for Best Buy's headquarters and the Minneapolis Public Schools. Janssen also conceived and managed HAFA's very first mobile farmers markets where HAFA staff aggregated farmers' produce and then traveled to seven sites within the Saint Paul Public Housing network, setting up one hour farmers markets that could be patronized by residents who were limited in their mobility. Janssen also steered the organization's early efforts to assist Hmong farmers with signing up for federal crop insurance and apply for microloans.
Janssen Hang brings to HAFA over 25 years of first hand farming experience, excellent Hmong linguistic skills and a deep and nuanced understanding of traditional Hmong cultural and agricultural practices. In 2018, Janssen was appointed by then Governor Mark Dayton to the state's Produce Safety Task Force, which was created to guide the state's thousands of vegetable and fruit farmers on how to comply with the Food Safety Modernization Act (FSMA). "It is my sincere honor to be given this opportunity to help shed light on the lives of Hmong farmers," says Janssen. "Many of them immigrated to the United States with only the clothes on their back and a deep hope to create a better life for their children. And in doing so, they also nurtured and fed many families in the Twin Cities. I will work hard to make sure that Hmong farmers are recognized and supported."
HAFA Board Chair, Liz Johnson, who supervised the selection process through the entire hiring process said, "We could not be more pleased that Janssen Hang will transition into the role of Executive Director! His education, experience and sincere dedication to Hmong farmers all prepare him to succeed in this new leadership role."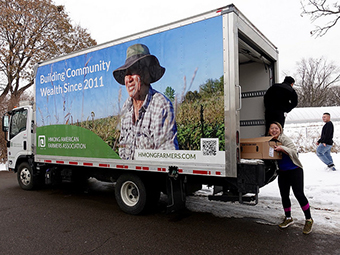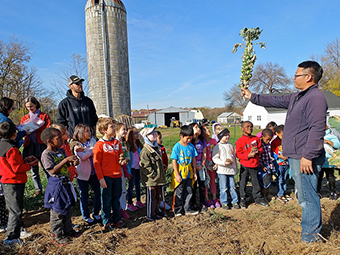 Janssen Hang speaking to group about brussel sprouts