From Mountains To 10,000 Lakes is a book written by Hmong students from Park Center Senior High School. The book is dedicated to students' parents and elders, as the students described it, "We value your wisdom, your courage, and all the sacrifices you have made for future generations. You are the living history of our people and will forever be remembered and cherished."
Collaborating on a book is a terrific idea for the Hmong students for Native Speakers classes and Hmong Hip-Hop Artist, Tou SaiKo Lee. The students wrote their own 16 line poems with the guidance of Tou SaiKo after multiple days of developing students' voices through spoken word, real life stories, and aspirations.
Park Center Senior High is a first ring suburban high school located northwest of Minneapolis, Minnesota led by Principal Heather Miller-Cink. They are a diverse group of students and staff; including Hmong, Liberian, Hispanic, Vietnamese, and many more. One goal of our comprehensive high school is to provide a culturally responsive and differentiated curriculum of strong rigor in a caring environment with the expectation that all students will succeed. Park Center Senior High has over 400 Hmong students in attendance, over 20% of the student population.
This is our second year offering the Hmong for Native Speakers courses at Park Center. There are now six full classes offered for students. Next year, students will be able to take Hmong for Native Speakers at level I, II, or III. They have worked hard to create this rigorous course and are very proud of the culturally relevant experiences that it offers.
This special book is made possible by the Education Minnesota Foundation Classroom Grant: The Untold Story. The format of this book is organized into four sections: Finding Me, Family, Our Community, and Keeping Our Culture Alive. This is the third book published by my Hmong Native Speakers. Check out The Cultural Dish and Dear My Teacher at https://herpublisher.com. I would like to thank my Instructional Coach, Angie Vivatson, and mentor, Dr. Brian V. Xiong, for your expertise in helping the students on their book project. Ua tsaug from Ms. Pang Yang, Hmong teacher.
A Message From Hmong Hip-Hop Artist Tou SaiKo Lee
As a writer, poet, hip-hop artist and community organizer, I have always believed in having creative outlets to provide voice as a Hmong American. Many Hmong youth in the United States have grown up in an environment that does not value their cultural identity. Some Hmong do not see the importance in speaking our language or learning our culture and history. Many of us grow up with low-self-esteem from confusion of who we are and do not have the motivation to strive for success, to be leaders or teachers of knowledge for generations after.
Many of us are children of refugee parents who suffer from PTSD after surviving the Secret War. We are only one or two generations from our grandparents, who have lived in villages on mountains in Southeast Asia. Our hopes and future of Hmong identity are in the creative minds of this new generation of writers. From the oral traditions of our elders to the written stories of our youth, we will continue to thrive.
From Mountains to 10,000 Lakes is a collection of poetry and stories from passionate students of the Hmong for Native Speakers courses at Park Center High School. During my time teaching creative writing and performance to these students, I was inspired by how they opened their hearts to share personal perspectives. These stories include family dynamics, Hmong shamanism, discouragement of being placed in ELL classes, frustration with gender roles of cultural expectations, misunderstandings with older generations and having pride in being Hmong. Their writing creates opportunities for discussion and collaboration where these students can think critically about how to honor the beautiful aspects of our culture while brainstorming ways we can address the issues our community needs to improve on.
I grew up in the Frogtown and Eastside neighborhoods in St. Paul, MN. There were not many positive role models for me to look up to during that time. I found my voice in spoken word poetry and Hip-Hop music as a teenager. I wasn't given many opportunities to share my art until I was in college. As a way to give back, I visit schools as a teaching artist to create space and encourage students to express themselves. I have continued this work for over 15 years.
I believe providing young people with creative outlets can keep them away from trouble and help them navigate mental health issues they encounter. They become more empowered through an understanding of their cultural identity. I, myself, had lost my ability to speak Hmong and didn't understand my culture. This was until I spent time with my grandmother and listened to her stories. The influence she had on me was incredible and deepened my sense of cultural identity. She chanted the traditional Hmong art of kwv txhiaj and I would flow spoken word poetry with her. I performed with my grandmother for over 10 years until she passed in 2017. Now I have the ability to write my own Hmong language Hip-Hop album.
I truly believe creative writing and performance arts are effective ways to engage the younger generation. We have always used songs as a way to revitalize language; we use storytelling as one way to engage children into our culture and history. Having a strong sense of cultural identity can give young people the confidence to be leaders and tap into their potential to achieve successful futures. Through the collaboration with their dedicated teacher, Ms. Pang Yang, these students have written pieces that are inspirational, deeply emotional and speak the truth that people from any generation or culture needs to read. From Mountains to 10,000 Lakes is a phenomenal accomplishment for these young authors.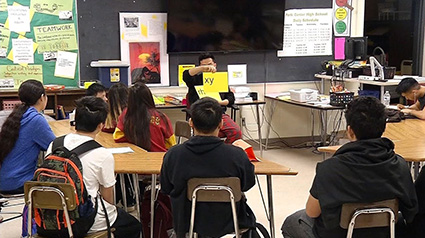 Hmong for Native Speakers class at Park Center Senior High School copy