The beautiful thing about having a Hmong friend is not only about learning Hmong people and culture, but also a long-lasting friendship that ended up contributing to Hmong community and Hmong student learning in the education world. Jessica Anderson illustrated Ger Thao's book, The Hmong Journey: Hmoob Txoj Kev Taug, because the two had been friends since they were young students. "Ger and I met 20 years ago. Originally, I lived in the forested mountains of Mad River, Northern California, from the time I was five years old. When I was 11 and just days away from entering the sixth grade, my parents moved our family to the little rural town of Gridley in the North Valley above Sacramento, California. My parents wanted my sisters and me to grow up in a community that wasn't too big, but still had more opportunities and extracurricular activities for us than what was available at the tiny schools in Mad River. Making new friends was hard, as I was very shy. My parents enrolled me in band class at Sycamore Middle School, which at first, I resented. I didn't want to join band, I wanted to go back to Mad River! But my parents made it clear that joining band was non-negotiable. I think they thought that me getting involved in an extracurricular activity would broaden my horizons academically and help me to make friends. So, I decided that I would learn to play the flute. Upon entering band class for the first time, the teacher took me to a small room in the back of the class where I could learn the basics of how to play my instrument until I was ready to join the rest of the band. The teacher opened the door, and in that room was a Hmong girl my age also learning to play the flute. The girl in that small room was none other than Ger. We helped each other learn to play the flute, quickly became friends, and have remained friends until this day. It's hard to believe that we have known each other for over 20 years!" said Jessica.
Two young students met in their early age in a music class where they helped each other learn to play the flute, their friendship bloomed from childhood into college projects and later a bilingual Hmong book, The Hmong Journey: Hmoob Txoj Kev Taug. In the process of writing this book about Hmong history and cultural curriculum for Ger's Master of Arts program at California State University, Chico, Jessica was the perfect friend to illustrate for Ger's grandmother's story.
Illustrating Hmong characters that related to the Hmong American experience and life journey has been enjoyable while learning deeper about Jessica's Hmong friend and their family's history. Jessica began researching Hmong arts and paj ntaub that would bring Ger's book to life. "This led me to discover Hmong embroidery and story cloth.  I was incredibly surprised by this discovery, as I had been expecting paintings, drawings, or sculpture. I found the embroidered symbols and patterns to be beautiful, as well as being a very unique and interesting way of telling stories. I thought the simple designs of animals and people on the story cloth would lend themselves well to Ger's children's book, so I decided to use this as the inspiration for my own illustrations. I wanted to do illustrations that had a bit of a rough/textured look, and I thought a style mimicking the embroidery would lend itself well to that idea. I studied the various symbols and embroidery designs from books and online resources, as I wanted to be as accurate as possible to represent the Hmong people" stated Jessica.
Arts that came from unique historical and cultural backgrounds are some of the reasons Jessica enjoyed the most in illustrating The Hmong Journey. "I enjoyed learning about the Hmong historical and cultural art form that I didn't even know existed. I also enjoy learning about the story of the Hmong and their struggle in the Vietnam War, with many other deep cultural histories that I also knew nothing about," said Jessica.
The illustration of The Hmong Journey actually took Jessica a good 26 weeks. "Between research, thinking about how to approach the project, and illustrating, it took me somewhere between four to six months total to complete the work," recalled Jessica. When asked what Jessica loved most about illustrating The Hmong Journey for her Hmong friend, Jessica stated, "To marry my own love of texture… with the Hmong story cloth in influence… and understand my Hmong friend a little more. Most importantly, I think that stories, especially stories that you personally can relate to, are very powerful. Some of my favorite stories feature characters like me who go through events or emotions similar to what I've experienced in my own life. My hope is that children in the Hmong community will relate to and enjoy this very personal story that Ger has written, and that it will be a resource that inspires them to someday share their own stories with the world, that will in turn inspire others. In addition to learning more about the Hmong culture and history, working on The Hmong Journey has helped me to understand my friend a little more, even though at the time I illustrated the book we had already been friends for many years!" said Jessica.
When Jessica is free and not creating art or working, she loves to spend most of her time at home. "In my free time, I love watching fantasy/adventure films and TV shows, most of which are, of course, animated. I also love learning about animation history! Sometimes I'm able to set aside time to read novels or art books. And when I do get out of the house, I like to visit museums, zoos, and aquariums. I also enjoy getting out in nature to visit state parks and national parks," remarked Jessica.
Like the author, Ger Thao, Jessica also loves to spend time with family. She believes that spending time with your Hmong family, or any family members, is the most precious thing in life. "I love to spend time with my family. The relationships I have with my parents and my sisters are so important to me. I don't get to spend much time with them now, as I live far away from them, but I consider family time very important, and I try to see my family whenever I can," said Jessica.
When asked about Jessica's future, she feels that illustration has always been more of her hobby, and for now she decided to set it aside to focus solely on 3D character sculpting. "I love animation above all other art forms, and I've found that I enjoy 3D sculpting more than drawing. I would like to make a career out of it, so that's what I need to be doing in my spare time after work. That being said, someday I would like to return to drawing and illustration, and I would certainly be open to illustrating more Hmong books. Drawing is a skill that I have developed over the years, and I don't want that God-given gift to completely go to waste, but we'll have to see what the future holds!" stated Jessica.
If Jessica could give any advice to Hmong students, friends, and individuals who are interested in illustration, she would offer the following:
"No matter what it is you want to do with your life, study hard and work hard. Be curious about the world around you. Don't be afraid to try new things, and don't fear failure. If you do fail, treat it like a learning experience. Figure out what you did wrong, then pick yourself back up and try again. And don't be afraid to take risks! No risk, no reward. If you are interested in pursuing art, there has never been a better time to learn how to be an artist. There are so many incredible resources out there on the internet for any art discipline that you may be interested in. Practice your craft every day, even if it's only for 15 minutes. Follow artists that you admire online and take note of their techniques. Read about art history and study the masters. The path to becoming an artist is hard and requires a lot of discipline. Sometimes it can take a long time to succeed as an artist. Even I am not where I want to be in my art journey yet. But it is never too late to be an artist. The key is persistence. Keep practicing, keep learning, and work to improve your skills and yourself as a person, and your chances of succeeding will be greater," vocalized Jessica.
Jessica would like to take this opportunity to "ua tsaug" all the students, teachers, and readers for choosing Ger Thao's book in their classroom and for supporting the Hmong Educational Resources Publisher for providing a space to both authors and illustrators to share their works.
The Hmong Educational Resources (HER) Publisher believes in the power of education and the impact of stories. HER is an independent publisher of books about Hmong people, culture, and life experiences. To read more about Hmoob Txoj Kev Taug and The Hmong Journey, please visit www.herpublisher.com. Both the author and illustrator would love to connect with readers and future authors/artists, if you would like to know more about Jessica and her work online, she could be found on Instagram and ArtStation:
https://www.instagram.com/jessandersonart/
https://www.artstation.com/jessandersonart
For Ger Thao and her work, please feel free to email Thao at nkaujhlinra13@gmail.com.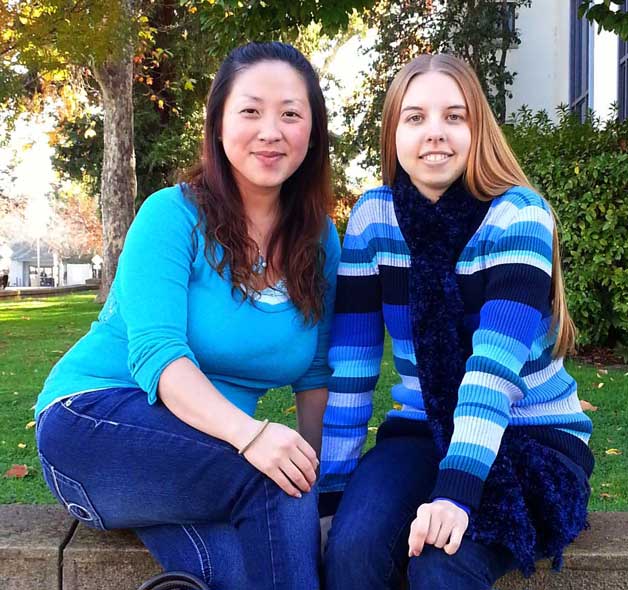 Ger Thao and Jennifer Anderson