She stood unnaturally straight and drew the arrow back. It flew to the center of the target with a thud. Bullseye. Then she did it again.
Now it's my turn and there's a lot to remember. Stand with one foot aimed at the target, always point the arrow "down range" (toward the target). Three scrunched fingers are in place, not four even if that feels better, and hold your shoulder here not there, keep your elbow out of the way.
Arm up, way up, take aim, pull on the bow and feel the tension. Release. The arrow flies left of the target center, but lands squarely within the target perimeter. Not bad.
We were at Afton State Park near Hastings where Linda Radimecky, Area Interpretive Naturalist, taught archery basics, which I last learned in a 1970s gym class.
Your children can learn how to shoot an arrow from a pro this summer at the Minnesota State Park and Trails Archery in the Parks program. Instructors are certified and all equipment is provided. Children must be at least eight years old. No experience is necessary to learn this precise, ancient sport.
Radimecky said that to learn archery, you need discipline and a good coach. "Follow the steps, and you'll be successful," she said on a cloudy morning at the park. "Be consistent, and set up the shot the same way every time."
The instruction through Archery in the Parks, which includes everything from stance to interpreting whistle commands, mirrors the National Archery in Schools Program. That nationwide curriculum is taught in 47 states for girls and boys in grades four through 12. The Minnesota DNR Archery in the Schools program provides Minnesota schools with equipment, training and the NASP curriculum. Girls and boys learn and compete with equal opportunity. The country's best student archers compete for NASP scholarships.
I know what you're thinking. You're thinking that all that instruction is fine during the school year, but what about the long summer months? What can my child learn then?
How about self-control, patience and discipline starting with one of the Archery in the Parks programs? Classes are held throughout the state, including Afton, William O'Brien, and Minneopa state parks, which are about an hour from the Twin Cities.
The introductory programs started in May and continue through August 31, 2019. Registration is required and again, children must be at least eight years old.
Some kids immediately take to the sport, Radimecky said. They easily remember protocol in the shooting range and preparation for an ideal shot.
Some programs are tailored to adults, who have a "hoot" learning how to shoot, Radimecky said. Her instruction designed for the "Becoming an Outdoors Woman" programs are popular.
Dear readers, I'm no Katniss Everdeen, "Hunger Games" protagonist and archer extraordinaire, but the two shots I took weren't embarrassing. Maybe archery is like riding a bike after a long riding absence: your muscles remember what your brain forgets.
Let me end with this. A check through the Internet on why archery benefits kids listed all the expected reasons like building confidence through a new skill and increasing upper body strength. One person reacted to a story on children and archery by pointing out the mutual respect expressed through the sport and its lack of "trash talk." He wrote, "Rules are strictly enforced, giving archery a fantastic safety record as compared to most other sports. Great for self-discipline and for the culturing of plain ol' good manners."
Good manners? A sport that starts modestly with expert instruction in a Minnesota state park and encourages good manners? Imagine that.
You can find the events calendar for the Archery in the Parks programs at Minnesota state parks at https://www.dnr.state.mn.us/state_parks/ican/archery.html. There is no charge for the program, but you will need a vehicle permit to enter the state park ($7/day or $35/year).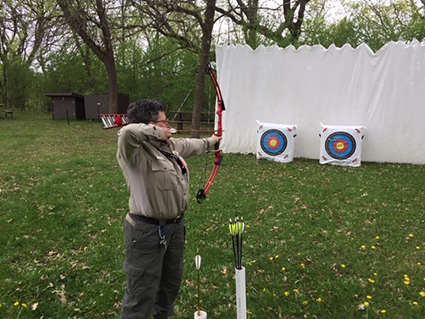 Linda Radimecky takes aim at her target.