"In 1998, residents of St. Paul and Minneapolis were called by Yuepheng Xiong (co-chair of the Hmong Archives and owner of Hmong ABC) to discuss what actions they could take to actively preserve Hmong history," CEO Song Vaj says, reflecting on the genesis of the Hmong Archives.
"They were historians, scholars, and businesspeople who recognized that the preservation of Hmong heritage is important to communicating our history to the world, and were concerned that there had not been a targeted effort to collect and preserve Hmong materials by themselves, the larger Hmong community, or the community at large."
Grass roots efforts back in the late 1980s set the stage for this landmark project to take off. Bolstered by a vision to be the center for Hmong heritage research, collections, and preservation, the idea of the Hmong Archives took root – all there was left to do was to make it real.
With the help of many donors and volunteers, the Hmong Archives formally incorporated as a 501(c)3 nonprofit on the 10th of February, 1999. After a name change (they were the Hmong Nationality Archives until 2004) and several relocations over the years, the Hmong Archives found a home at the East Side Freedom Library, located in the former Arlington Hills library of the Payne-Phalen neighborhood.
Now, with a 20 year-long legacy behind them, the architects of the Hmong Archives are looking to the next generation. With a formidable, ever-growing collection of distinctive items (206,977 items accessioned from 1130 worldwide donors as of October 2018), they are shifting the focus to community development and outreach.
At the moment, Vaj contends, people come to the library when they want to conduct research. However, board members and volunteers are working on digitizing all the materials collected so that anyone – no matter where in the world they may be – can have easy access. They are also brainstorming and experimenting with new ways to engage students, and hope to take the Archives into classrooms, and encourage youth to explore and cherish Hmong history.
"Our goal and mission," Vaj asserts, "are to continue to educate the community about Hmong history with our collections."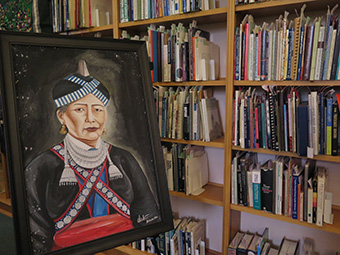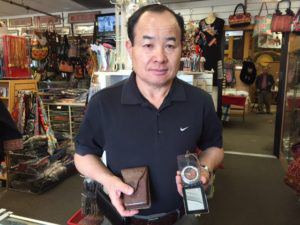 This rare, actual military compass was given to Youa Ge Vang when he was a military officer in the Secret War Army in Laos.