HCPA, Moorhead Middle School Bands Form Unique Collaboration
By Dave Bonko
Hmong College Prep Academy recently hosted a band clinic featuring students and staff from Horizon Middle School in Moorhead, Minnesota.
The clinic was the idea of Hmong College Prep Academy band instructor Roy Piennar and Horizon Middle School's Dan Christianson. The two have stayed in contact since working on their undergraduate degrees.
"What started out as a traditional band clinic turned in to much more," stated Piennar. "At first, students took part in the typical things one would experience at a standard middle school band clinic. However, the event provided all who participated with much more than they expected."
Piennar went on to describe how the students from each school interacted throughout the session.
"HCPA students learned a lot about life in Moorhead, Minnesota, and the Horizon Middle School student learned a lot about Hmong and Karen culture as well as the history of HCPA. For me as a teacher, it was beautiful to see our students educate the Horizon Middle Sscool students about Hmong and Karen history, traditions, customs, and food. One of our students actually played the traditional Hmong instrument, the "Queej," and talked about how the instrument is used in events like funerals. Horizon Middle Sschool chaperones, teachers, and students were fascinated by what our students had to share!"
Plans are already in the works for HCPA to make a trip to Moorhead next year.
"Both schools' teachers, chaperones, and students all agreed this was a super fun, engaging, and beneficial experience for everyone involved," stated Piennar. After the clinic, the teachers and chaperones of Horizon Middle School immediately invited us to come visit their school in the future. I think doing a trip up to Moorhead next year would be mutually engaging and I would support it 100%. It would be great to have our students experience life outside of the Twin Cities."
While in the Twin Cities, Horizon students had a full day. After the four-hour trip, they visited the Natural History Museum, dined at Buca di Beppo prior to visiting HCPA.
"It was really beneficial for us to learn about the daily life of students from Moorhead," added Piennar. "As a gift, they gave us a stuffed animal of their school mascot, which is a spud potato! It is sitting in the band room now and will forever be a piece of memorabilia from that special day."
For Piennar, the highlight of the day came when both schools rehearsed Sib Pab Ciaj Vaj. Hmong community elder Dr. Yang Dao originally composed and Piennar arranged the traditional and historically significant piece for high school band performances.
"It was incredibly special to experience the song being performed by two schools who have very little in common, besides students who love music and want to be in band. What made it special is that the translation of Sib Pab CIaj Vaj in English is 'When Cooperation Brings Prosperity,' which is exactly a summation of the entire experience! We really hope to keep in contact with Horizon MS in the future and hope to work and perform together again."
Hmong College Prep Academy is located at 1515 Brewster Street in St. Paul, just southeast of the Minnesota State Fairgrounds. For more information or directions, interested parents and students can call 651-209-8002 or online at www.hcpak12.org. The school is currently enrolling students in grades K-12 for the 2019-20 school year. Space is extremely limited.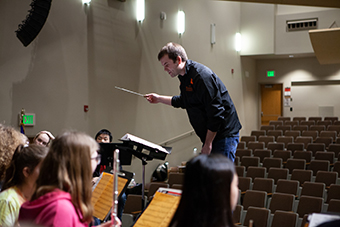 Horizon Middle School Band Teacher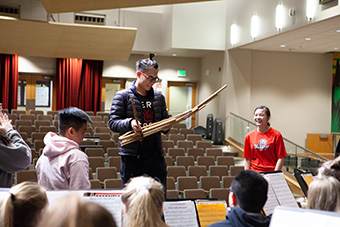 HCPA students share Hmong culture with students from Moorhead, Minnesota's Horizon Middle School